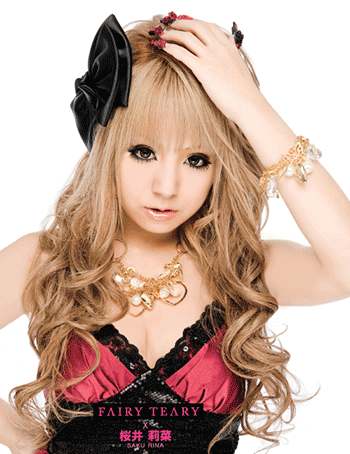 Sakurina or Rina Sakurai is an Ageha Model and J-Pop Artist.
She debuted in 2008 with her Song "Angel".
She started modeling for Ageha in 2007.
Her makeup consists of liquid liner rimmed eyes and white shadow in the inner corner. Dark eyeshadow is usually applied. Her nails are usually ornamenated with rhinestones and ornaments.
Sakurai's jewellery line is called, "Sakurina Style," and she has collaborated with DUB jewellery designs.
She is also a model for Candy Magic Circle Lenses.
She is currently starring in a film named Butterfly as "Ichinose Hakura."
She is one of the most popular models of Ageha.
Eyes: Natural Brown but regulary wearing different colored contacts.
Hair: Dark/light ash brown, dark/light ash blonde either with black, red, blue peek-a-boos.