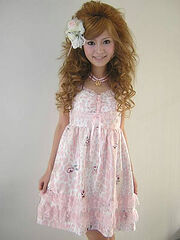 Defenition: Princess Gal
This is the Younger Sister of Oneegal. A lot of himegal have that puffy beehive-style hair, but it's not a requirement, any girly style is fine as long as it looks very fancy. Clothes include long, cocktail dresses or short dresses in mainly red, white, pink, blue and black, as well as leopard and floral print. Empire line tops and dresses are very popular and so are denim jackets, in summer.
Variation: Himekaji-Casual Hime: Casual Hime Gal should not be confused with Oneega, includes things like silk camisoles, mini skirts and shorts, blouses, etc. People in casual hime often have their hair down and curled. Really the only time it's acceptable for himegal to have straight hair is if your hair is short or it's partially up.
http://themagicpages.tumblr.com Princess Photo blog
Community content is available under
CC-BY-SA
unless otherwise noted.